Help Us Reach Our Vision
Your transformational gifts, through donations or long-term giving through a charitable bequest, help to improve economic development and community vitality across the country. Thank you for supporting our mission by giving generously to America in Bloom. Enjoy the videos below of Logan, Ohio and Orion Township, Michigan as you consider the impact our programs can make.
America in Bloom is funded by sponsors, grants, and individuals who believe in our mission. We are grateful for the following individual donors. We look forward to adding your name!
FRIENDS OF AMERICA IN BLOOM
$10,000 and up
Anonymous
$5,000 to $9,999
Katy Moss Warner
$3,000 to $4,999
$1,000 to $2,499
Lisa Ambrosio
Sherran Blair
Richard Webb
$500 to $999
Sally Bocklage
$250 to $499
Lisa Campbell
Vivian Lund
Leslie Pittenger
Dorothy Skowrunski
Up to $249
Sue Burke
Cultivate Catskill
Joseph Forte
Mary Greendale
Gary Leabman
Kris Medic
Rebecca Miller
Steve Mostardi
Jessica and Edgar Reyes
Celeste and Dennis Ryan
Carrie and Phil Sears
Kathy Shore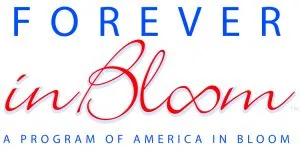 Another way to give is to leave a legacy with the "Forever in Bloom" Program. Let the transformative work of America in Bloom thrive and bloom brightly in the future by making a charitable bequest.
Give now and see your philanthropic dollars at work. Cultivate your legacy, and give yourself the joy of watching your philanthropy took root and bloom. There are several ways to donate, including appreciated stock, IRAs, securities, cash, and more.
The full fair market of appreciated long-term assets is usually deductible. In addition, you can avoid paying capital gains tax when you make this kind of charitable donation. Contact us to learn more or download the Forever in Bloom program information.